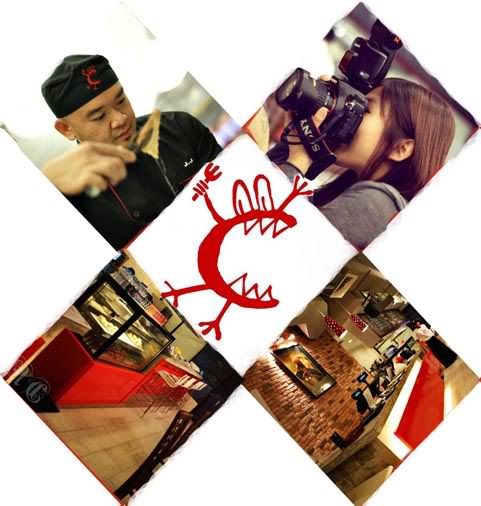 Last Friday, 15 January, I kinda attended the first bloggers outing. This time, it was hosted by
Ellie Chee
. Malaysians being the "late coming" people, most were obviously, late. :S
I drove straight from work so I went in to have a sip first while waiting for the rest, including mybitche. I was warmly welcomed by the waiters and one of them brought me to my outdoor seat where I could take a puff before it all started. I could see two long tables nicely arranged at a corner in the restaurant when I arrived.
Slowly, everyone arrived including the host,
Ellie
, Jonathan Yip,
SmashpOp
,
Josh Lim
, Leonard
and a whole bunch of others.
The first thing I liked about
Kitchen Creatures
is the price,
DIRT CHEAP
for western food with much varieties. Second is the friendly waiters, especially the bald one who was hanging around with us half the time. He's the chef and owner too, if I didn't recall wrongly.
Then the complimentary bites came. Cameras were all on standby when the 6 mini
Baked Stuffed Mushrooms
(stuffed with crabstick and shiitake flavoured cheese, lightly baked) came. I am guessing that it is their signature dish. It was my favorite as it cheesily satisfied my taste bud for the night. (yUUUMS) Then came the
Spicy Beef Pepperoni
(mozarella, cheddar, with beef pepperoni and jalapeno peppers). OOOO Sinful bites.
MyBitche ordered his usual medium rare
Sirloin Steak
, but it came fully cooked. The Sirloin Steak was served with Angel Hair pasta and stir fried vegetables. Nice presentation, fresh and tasty.
I ordered the double pies (the set comes with two pies where you can choose two out of three choices). Served was my all time favorite
Chicken Pie
and
Tuna & Macaroni Pie
. Interesting aye? I liked the Tuna & Macaroni one better, something different.
Flashes of lights pretty much brightened the restaurant, as if there were celebrity in the house if seen from outside. lols. Good fun.
Credits to.......
Kitchen Creature
s
is located in Centrepoint, BU, 1st floor.