yuppy-duups! That's right!
My latest and the last piercing, tongue piercing!
wheee.. Ten studs in total..
seven on my ears
,
one on my nose
,
tongue
and
naval
..
perfecto!
DingDong asks Benny who pierced her tongue,
"eh eh.. is it normal that the piercing hole on my tongue stretches a lil with some disgusting looking mark on my tongue with the shape of the stud??!"


"yeah, it's normal,"
Benny answers.


"pheww! for a minute I thought my tongue was tearing and there was fungus growing on it! hahah!,"
says DingDong with relief.
Now I have difficulties munching, eating spices and obviously, TALKING properly. Wow. Yay me.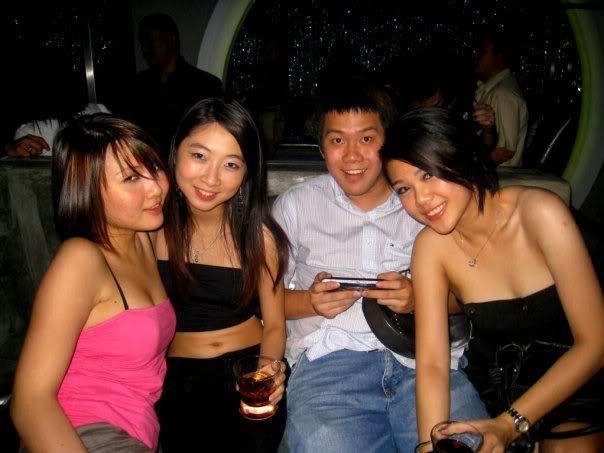 More Space on Fridays!
Rachel, Derrick, Ezra, Alan, Bryant, cute Desmond that I met at Langkawi, lil mui Jeslyn, Natalie, Shereen, Kenny, Michelle, Joe, SQ, and alot of people were there. I was at Laundry with Joe and SQ for the NESC interview right before that, celebrating DJ Warren's Birthday at the same time. The night ended with tears. This is why I hate boys..

Stuffy and packed as usual which I never liked about Space. Thank God I didn't see the PR Godzilla there or she would have died that night. hah. *evil grins*

Don't tear

over the unworthy

. Smile

because you've learnt your lesson. Open up both your

eyes

and

heart, judge

and

choose

the best

.
Poor boy Derrick vomitted all night long. Thank me for the lemons. Lousy lil thang.. okay lah.. I sayang back. :p
Ezra.. The man who brought the underages in. Befriended the infamous Sebastian and
"I'm gonna say FUCK THREE OF U I don't care cuz I'm drunk!"
.. wow. amusing.