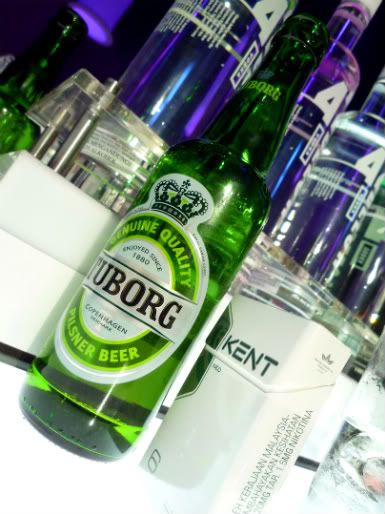 On the 8-9 August 2008, held the
Kent Reinvented

Launching Party
at The Mines Convention Centre. The greatest things about attending launching parties are the unlimited free boost, hot hunks, and the mind-blowing music. The party went on for two nights but a day was good enough for me as the venue was just not strategic. Daddi say, petrol expensive ahh. Consider also the chances of getting lost in that secluded area and getting robbed or blocked by the cops in the middle of the night when drunk driving. The theme was futuristic or some sort and the settings were pretty. The guys must have enjoyed the presence of the sexy cigarette chicks. Cassyie and Epa was working there as well. Got a little too wasted to find them for pictures later that night. Same goes to Dinesh. *sob sob* We bought a carton of the new Neo, it tasted alright but gave me a sore throat the next morning.
I've always hated

Vodka

, but this' different
If you guys ever come across this new Sheesha cigarette, forgot what was the name but it comes in blue packaging, don't even think of buying it. I tasted so darn bad that I ended up throwing away the whole packet after my first stick. My friend just put it off after his first puff. So imagine that, it

cost the same

as my Dunhill Menthol but worth far lesser in reality. Fcuk man.. I rather mix a puff of cigarette with a puff of real sheesha.
Checkout some Uncle dance moves and the hot sexy scene..