New lesson learned: No more late nighouts on Tuesdays and whenever a morning class is conducted the next morning.
Grr. I've just missed my PR 2 classes. So damned. Deep dirrty shyt!
As I've mentioned of the next surprise..
Steffanie T @

Steffielicious'

23rd Birthday!
(actual date: 27 August)
Another night of drunkness by Steffie, many of her friends turned up, bottoms-up dunno how many million times, and best of all, her bestie was piss drunk! woohooo.. Flaming-Flaming babey.. It will never go wrong on a birthday.
I rushed on 120km/h to Sanctuary from Mardigras, so that I will not miss the whole party. Too bad she was, as usual, already tipsy when I got there. heheh.. A girl who's always being mistaken to be nineteen, hot and sexy, many men's desire aye? It's time for a ding-dong bell in church babe.. I want more wedding invitations!
Mini, Divesh, and Edmund were there with their clans too. (I was not drunk! mini!) Amirul and Jonz came later in the night. Thanks for the ciggie restock Jonz-Lamoe. Love~Love all of em' who were present that night big time! I'm still in a party mood at this point of time, just had Jap dinner at Zen sushi, a taste of Solaris and drizzle drops all over me two days back, and another jap at Zanmai after some amusing lil' 'childish' argument-talk-entertainment yesterday. Laughin stalk. Kids..nOwadays..tsk tsk. My blood circulation is somewhat improving man.. good thang! I ain't a kiddo or a childish bitch like how most of you think I am.. Like I always say, get to know me before you judge. You'll like it. tooohoooo!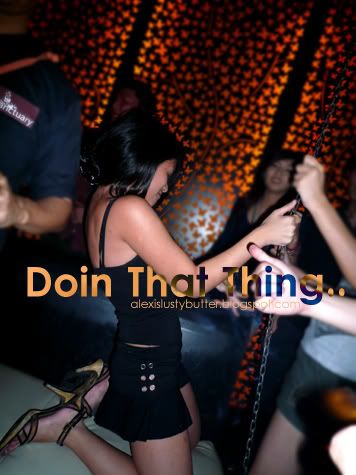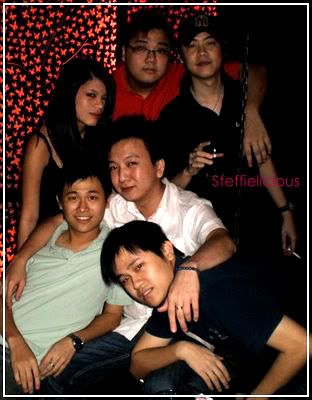 Still wondering which of these boys bought me a shot.
I really couldn't recall
,
not even how I fell on my knee. My memories are not 'that' good when I'm not completely sober.
Babe.. just look at you..
drunkard..
xoxo. #1 Coke
fanatic.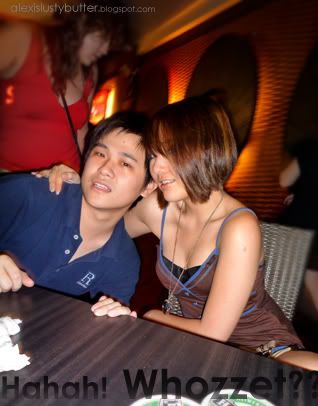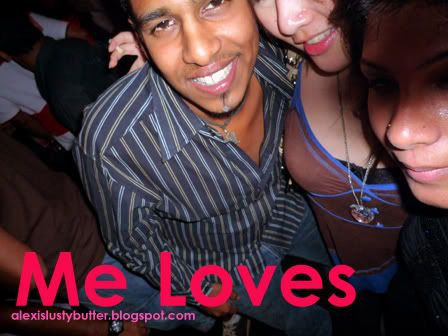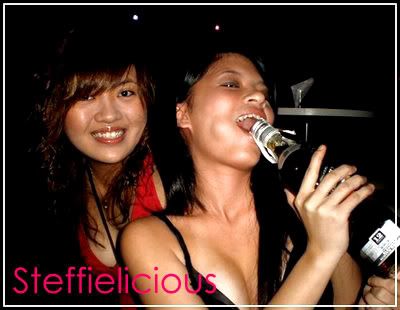 Penny . Steffie . Sue Ann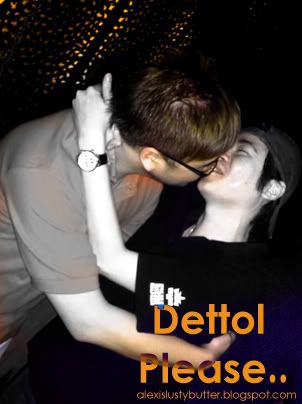 Familiar? Listen to
Night-Fly?
Yeah.. him.
Mini's big loving brotha.
hahah.. to somebody..
I was
and
am
impressed
too. ;)
I just had the weirdest dreams after a few snoozes in the morning (the other day) when I suddenly woke up and thought I was late for my CRM quiz. He and He appeared in my dream.. we were cycling.. at granny's.. then POP! eyes wide opened when I saw sunlight when I was not supposed to. 8.30am dude.. suddenly 9.30am. FCUK! Bounced off bed, skipped shower, brushed my teeth and cleansed my face, put on a hoodie and light makeups and zooomm-brrooom-brrooom! Only fifteen minutes late and luckily, I did not miss much. Best part is, my quiz was in the afternoon tutorial class. Lucky ME! HalELUyah!!!
Got a news that I'll be facing someone real soon. The person that I once hated, more like irritated with. I honestly can't remember much except the sweet surprises and crying moments. Nasty but yeah. It's been so long.. boy.
Can't seem to get enough of Bossa Nova and wine. So need to get a taste of the hard-to-find Ice Wine.
OMG! Ivan look-alike!
Impressed.
ahaha.
Gay.
ahaha. Don't mind me, I like to syok-sendiri.
Boy.. no one could make me feel the way just like how you did. I missed you. I can't help it. Why did you..
fly away..
Wait! This is not all.. More up next! *Cheers*